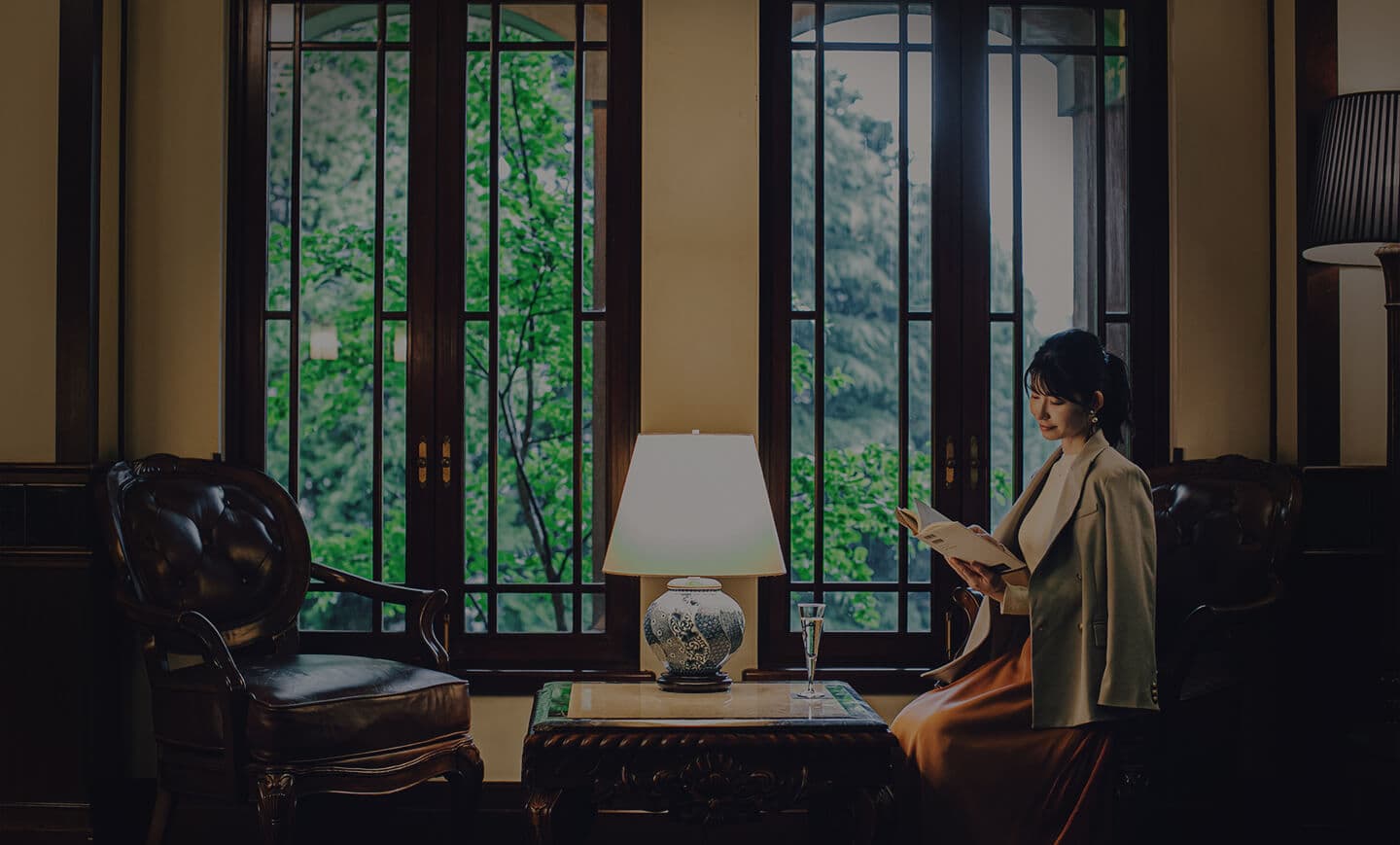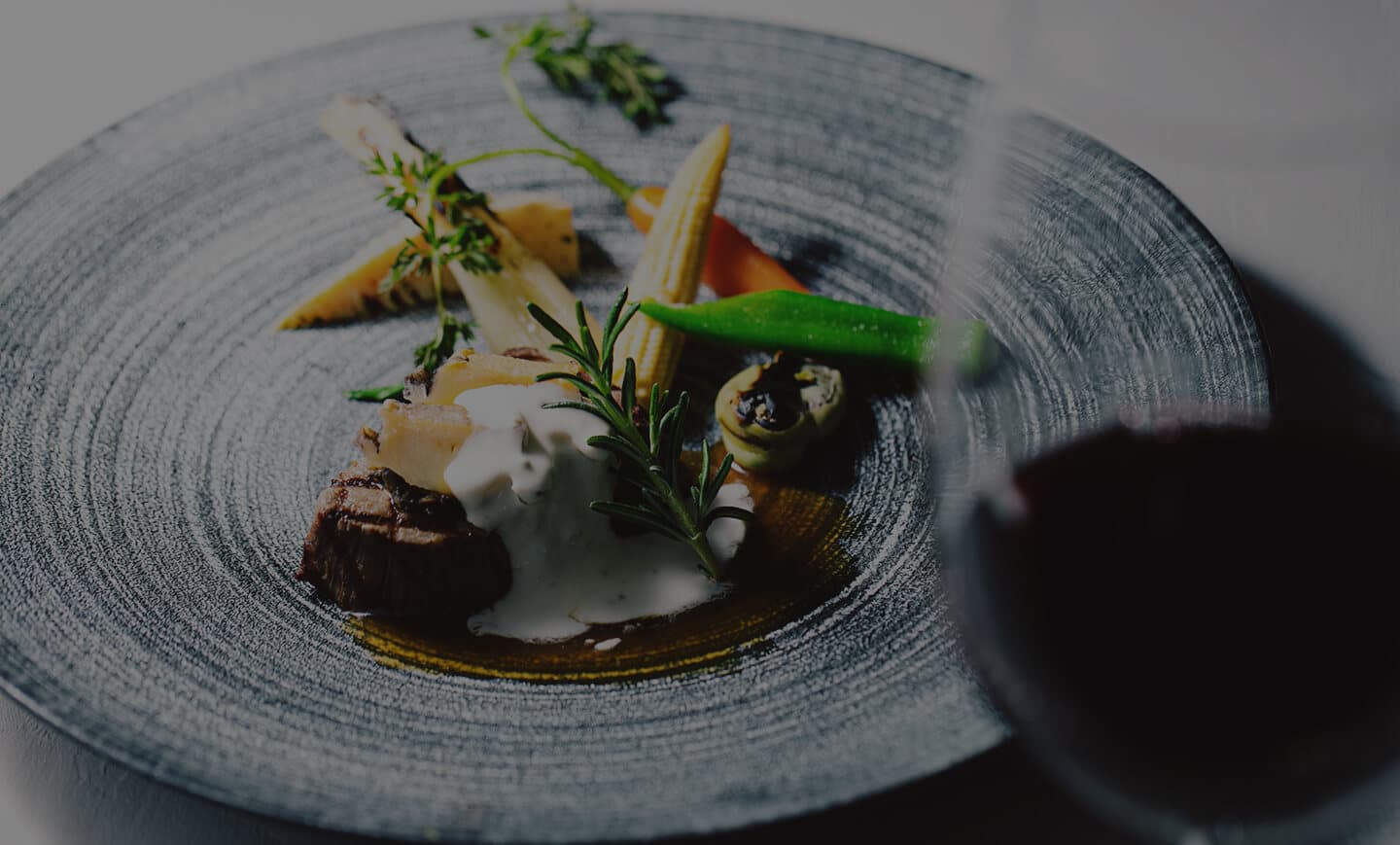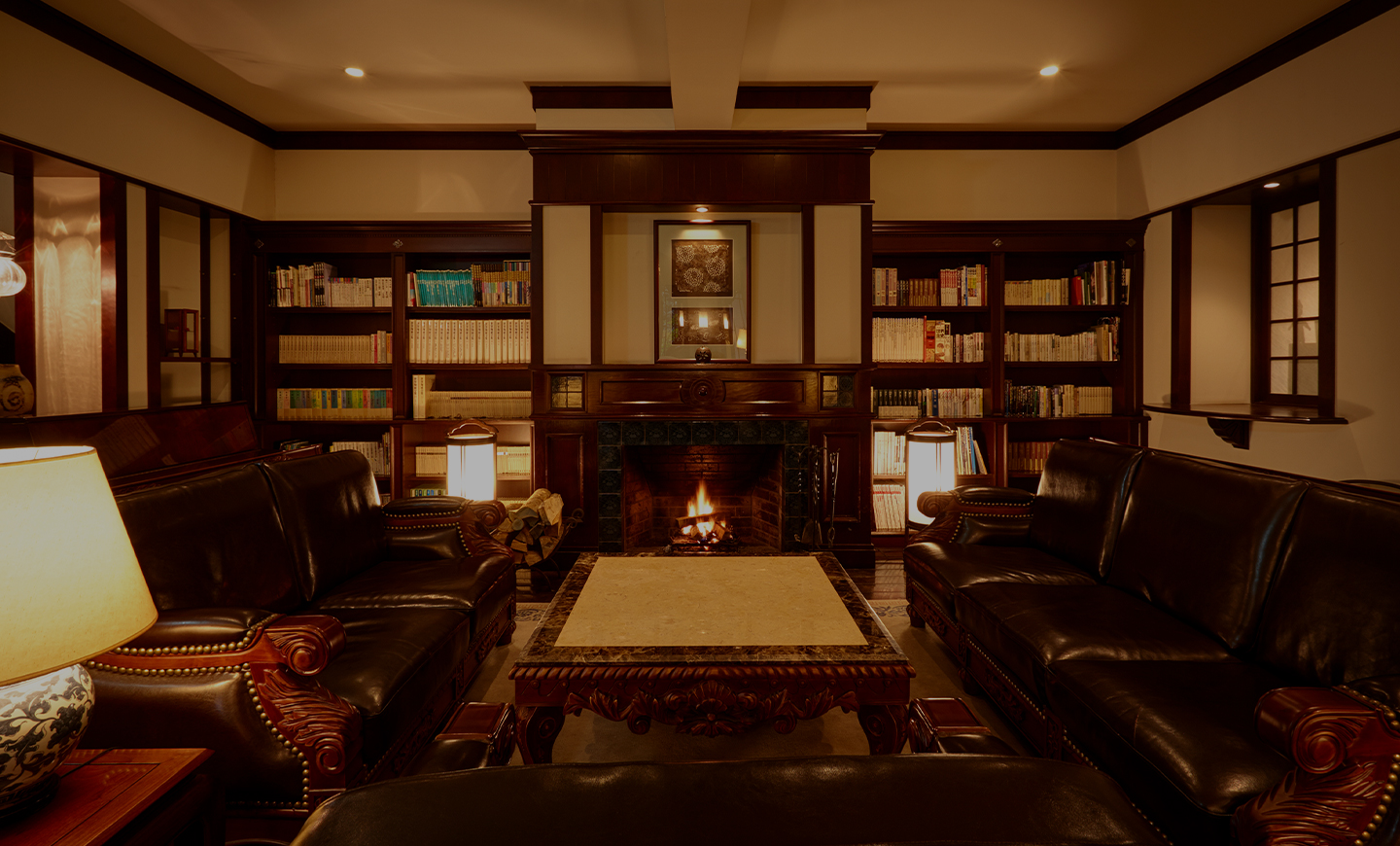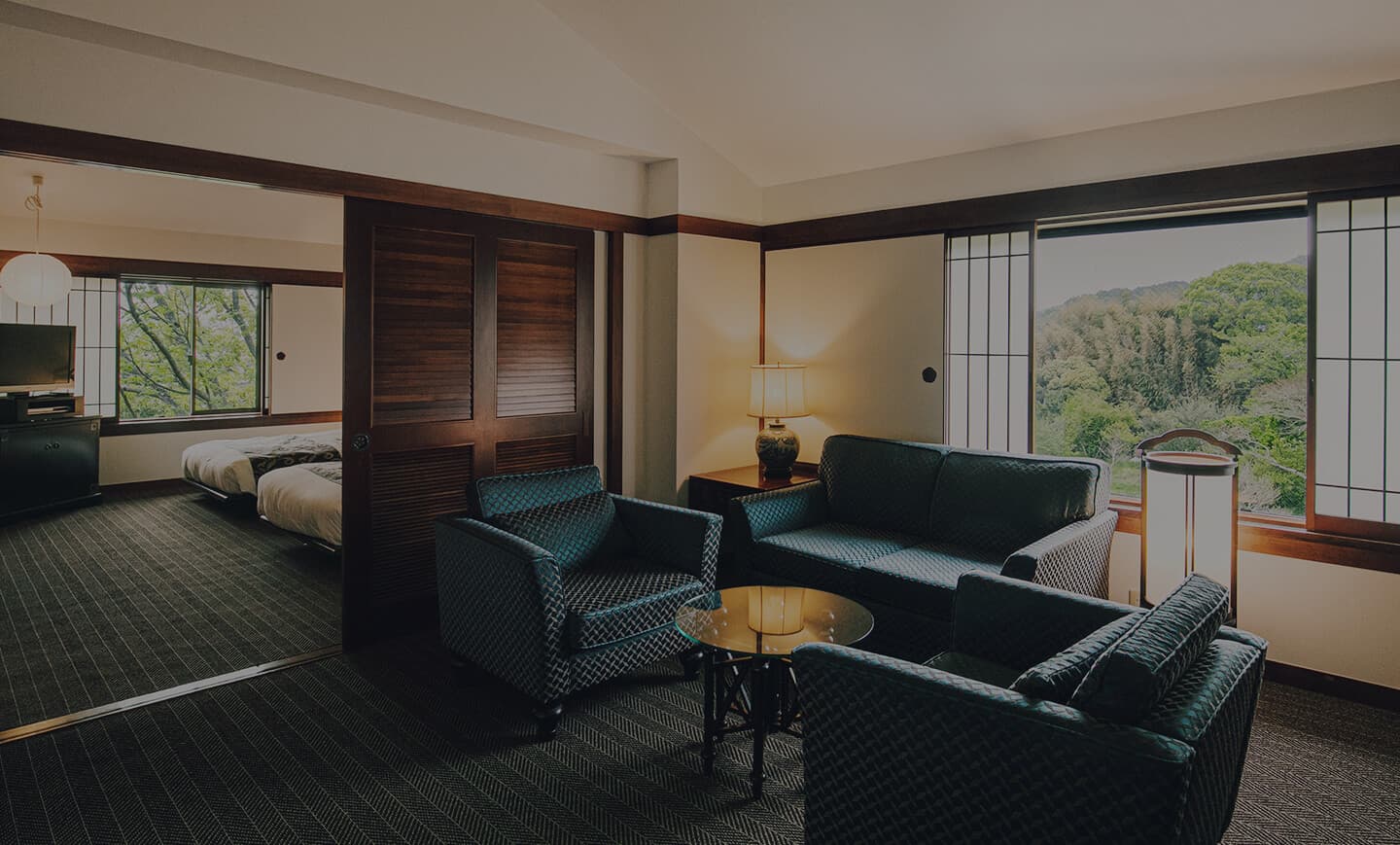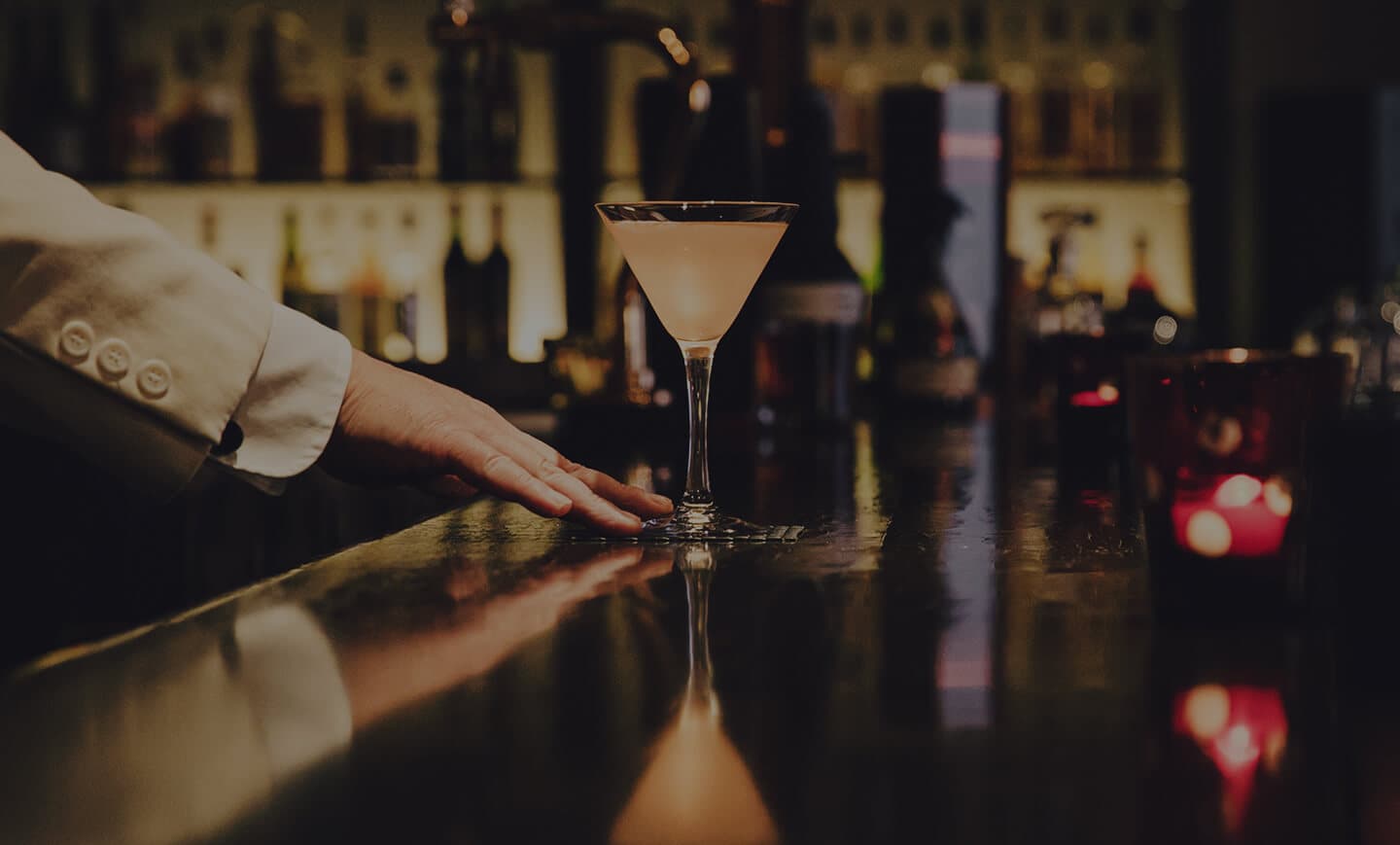 Hotel is another home at your travel destination
Luxury & Nostalgia
Welcome to a manor-like hotel where time stands still
A unique interior where slightly nostalgic,
soothing Japanese elements are blended into
the luxurious setting that resembles manors
owned by British lords.
The quality experience offered here
makes you come to a stand in your ordinary life and takes you into an extraordinary world filled with dignity.
Combined with the cozy atmosphere
that makes you think as if you've been invited by an old friend,
The Hamilton makes your time here an extraordinary one.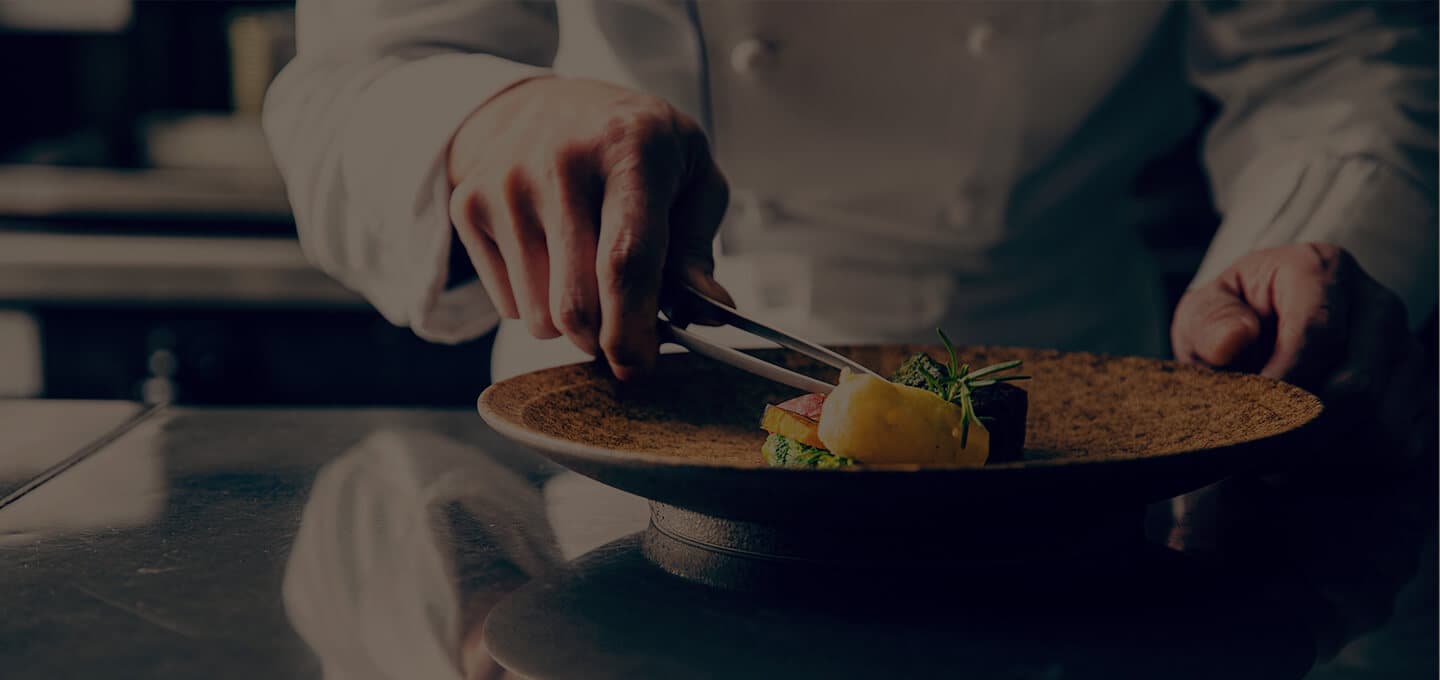 Cuisine
Enjoy the blessings and beauty of nature with your five senses
The authentic Italian cuisine to savor with your five senses,
created by combining ingredients mainly sourced from Kyushu with European styles and techniques.
Restaurant Information
Hours

| | |
| --- | --- |
| Breakfast | 7:00 a.m. - 9:30 a.m. (last call) |
| Lunch | 12:00 p.m. - 1:30 p.m. (last call) |
| Dinner | 6:00 p.m. - 8:30 p.m. (last call) |

Telephone
+81-954-43-0333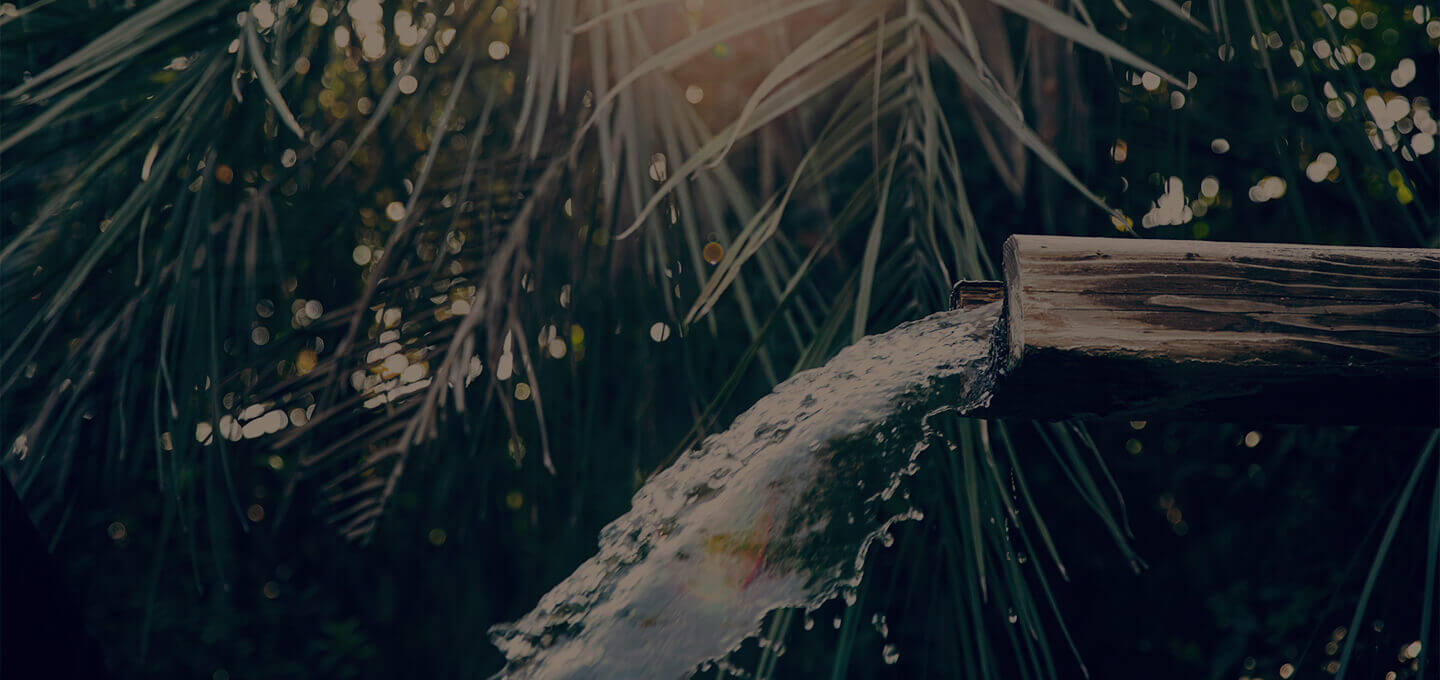 HOTSPA
Top quality skin-beautifying water and
the extraordinary atmosphere offer
a therapeutic time
Ureshino hot spring is said to be one of the renowned "skin-beautifying waters" in Japan.
Indulge yourself in this superb hot spring quality in an exceptional atmosphere where you can feel the good old times of Japan.
Large Public Bath
Outdoor Bath
Private Outdoor Bath Ryokuan
Large Public Bath

A large wooden public bath
It's a bath with a nostalgic feel despite its modern design.

* A shampoo bar where you can choose from multiple brands is available.
There's a small outdoor bath at women's large public bath.

Outdoor Bath

An outdoor bath made of stone with a striking pyramid-shaped roof, located in the garden.

[Men] 6:00 a.m. - 8:30 a.m. / 2:00 p.m. - 4:30 p.m. / 10:00 p.m. - 12:00 a.m.
[Women] 9:00 a.m. - 12:30 p.m. / 5:00 p.m. - 9:30 p.m.
* Women-only and men-only bathing times alternate as shown above.

Reservation required

Private Outdoor Bath Ryokuan

A private open-air bath where families and friends can relax and unwind.
The bath offers 100% natural hot spring water with skin-beautifying properties that flows directly from the source.

Private use fee/per room (50 min.)

| | |
| --- | --- |
| Overnight guests | 2,000 yen (tax excluded) |
| Visitors | 2,500 yen (tax excluded) * Bath admission fee is required separately |
Hot Spring Information
Hours
[Overnight Guests] 6:00 a.m. - 12:30 p.m. / 2:00 p.m. - 12:00 a.m.
[Visitors] 8:00 a.m. - 12:30 p.m. / 2:00 p.m. - 6:00 p.m.
Fees
[Overnight Guests] Free
[Visitors] Adult 1,320 yen (tax included)/Child 660 yen (tax included)/Preschooler (up to 5-year-old) Free


* Bathing tax of 50 yen will be charged separately for adults.
* A separate fee will be required for the use of the private open-air bath.
* Visitors using the restaurant or the spa can bathe for 660 yen (tax included).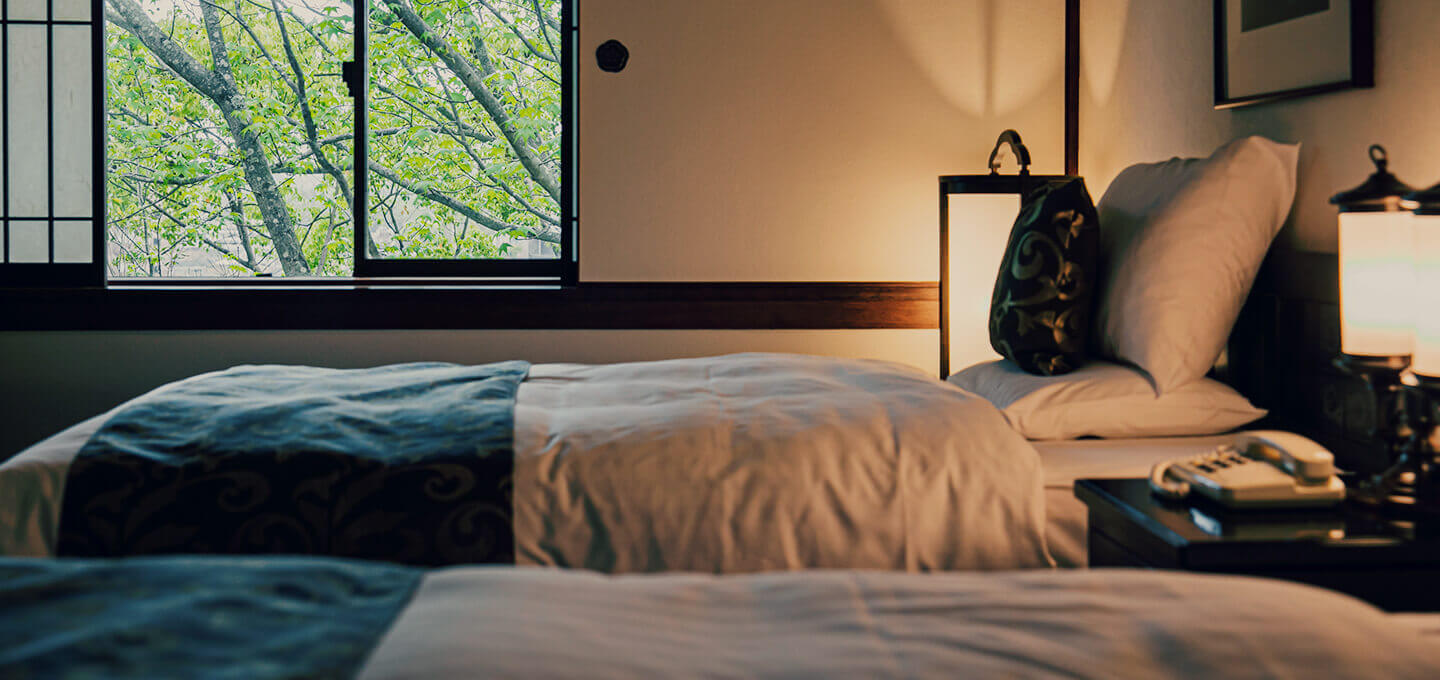 ROOMS
Relaxing rooms created by pursuing comfort
We have designed truly relaxing rooms for our guests
by incorporating the warmth of wood and Japanese elements to quality, tranquil settings.
All rooms are non-smoking.

Equipped with free Wi-Fi

Equipped with an air purifier
Classical, quality interior

Top quality Simmons beds are installed
Superior Twin
Deluxe Twin
Japanese-Style Room
Hamilton Suite
Guest Room Information
Facilities
Simmons beds (except Japanese-style rooms) / Free Wi-Fi (high-speed wireless LAN) / TV / DVD player / Telephone / Electric kettle / Tea set / Refrigerator / Hair dryer / Air purifier / Separate air conditioner for each room / Bidet toilet seat / Bathroom (not a hot spring bath)
Trouser press (rental) / Iron (rental) / Transformer (rental)
Amenities
Liquid soap / Body soap / Shampoo / Conditioner / Toothbrush set / Shaver / Hair brush / Towel / Bath towel / Clothesline (except Japanese-style rooms) / Yukata robes / Slippers* Plastic items are made of eco-friendly materials.
Check-In/Check-Out
3:00 p.m. / 11:00 a.m.
Number of Guest Rooms
Total of 38 rooms * All rooms are non-smoking.
(25 Western-style rooms / 10 Japanese-style rooms / 3 Suites)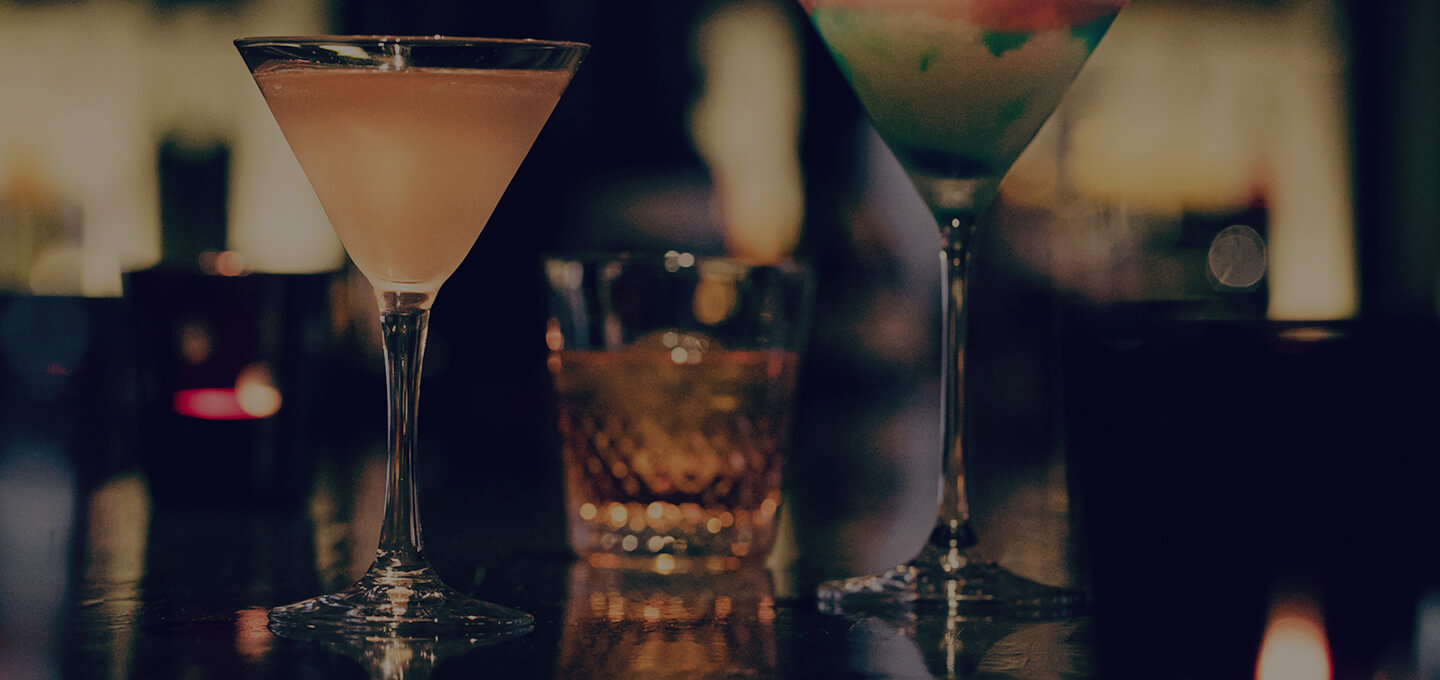 BAR
Encounter an authentic bar with a sophisticated ambience
Bar Hamilton with remarkable wooden interior serves numerous select whiskeys and
cocktails made by our experienced bartenders for you to enjoy.
Bar Information
| | |
| --- | --- |
| Hours | 5:00 p.m. - 12:00 a.m.(last call 11:30 p.m.) |

FACILITIES
Lobby & Library

Shop

Banquet Hall

Conference Room
SIGHTSEEING
Have a trip filled with new encounters and discoveries in a city of teas and hot springs, Ureshino
Toyotamahime Shrine

About a 10-minute walk from the hotel

Siebold's Footbath

About a 10-minute walk from the hotel

Yushuku Hiroba

About a 15-minute walk from the hotel

Todoroki Waterfall

About a 15-minute walk from the hotel

Photos provided by: Saga Prefectural Tourism Federation

Ninja Village Hizenyumekaidou

About 5 minutes by car from the hotel

Photos provided by: Saga Prefectural Tourism Federation

Hizen Yoshida Pottery Museum

About 15 minutes by car from the hotel

Photos provided by: Saga Prefectural Tourism Federation

The Saga Pref. Space & Science Museum

About 30 minutes by car from the hotel

Yoshinogari Historical Park

About 50 minutes by car from the hotel

Huis Ten Bosch

About 50 minutes by car from the hotel
ACCESS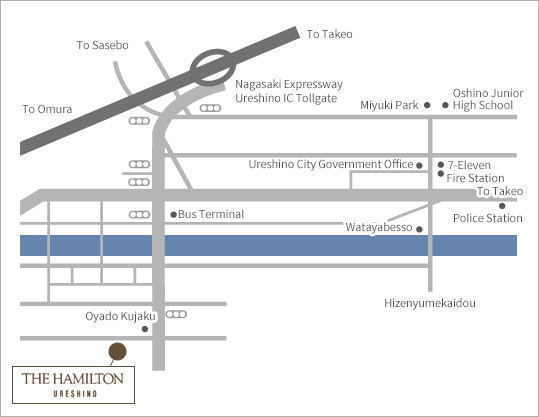 The Hamilton Ureshino
288-1 Iwayagawachi, Ureshino-machi, Ureshino-shi, Saga 843-0304
Telephone.+81-954-43-0333
Fax.0954-43-0777
By air
By car
By train
By bus
By air

Fukuoka Airport
International Terminal

Kyushu Kyuko Bus
about 80 minutes

Ureshino IC Bus stop

about 6 minutes

Route 38 → Route 444
about 12 minutes

JR Omura Station

Shinkansen
about 8 minutes

JR Ureshino-Onsen Station

about 10 minutes

Kyushu-Saga International Airport

Saga City Bus
about 30 minutes

JR Saga Station

JR Limited Express
about 20 minutes

JR Takeo-Onsen Station

Shinkansen
about 5 minutes

Ureshino Hot Springs

about 10 minutes

* Free pick-up service is available from Ureshino IC bus stop or Ureshino Onsen Station to Hamilton Ureshino.(Telephone. +81-954-43-0333)

By car

Nagasaki Expressway
about 55 minutes

Ureshino IC

Local streets about 10 minutes

Nagasaki Expressway
about 40 minutes

Ureshino IC

Local streets about 10 minutes

Car navigation setting

When searching for routes, some car navigation systems and smartphone map apps may misdirect you to the back of the hotel, and you may not be able to arrive at the hotel entrance.
When using a navigation system, we recommend you to set "Oyado Kujaku," a hotel located next to our hotel, as your destination.
Our entrance is located nearby Oyado Kujaku.

Recommended destination setting on navigation systems
Oyado Kujaku Telephone.0954-43-2100

By train

JR
about 1 hour

Takeo-Onsen Station

Shinkansen
about 5 minutes

Ureshino-Onsen Station

about 10 minutes
*

JR
about 20 minutes

Takeo-Onsen Station

Shinkansen
about 5 minutes

Ureshino-Onsen Station

about 10 minutes
*

* If you would like to use our shuttle service, please contact us when you arrive at the station.(Telephone. +81-954-43-0333)

By bus

Fukuoka Tenjin Bus Terminal

Expressway Bus
About 1 hour 40 minutes

Ureshino IC Or
Ureshino Bus Terminal

About 10 minutes from Ureshino IC
Ureshino Bus Terminal about 5 minutes
*

Nagasaki Prefectural Bus Terminal

Expressway Bus
about 1 hour

Ureshino IC Or
Ureshino Bus Terminal

About 10 minutes from Ureshino IC
Ureshino Bus Terminal about 5 minutes
*

* If you would like to use our shuttle service, please contact us when you arrive at the bus stop.(Telephone. +81-954-43-0333)